Video Overview
To edit a device, begin by locating your device in the list, using the available filters if needed. Then, under the Actions column click the Edit device icon, as shown below. A list of attributes that are available for editing appears on the screen.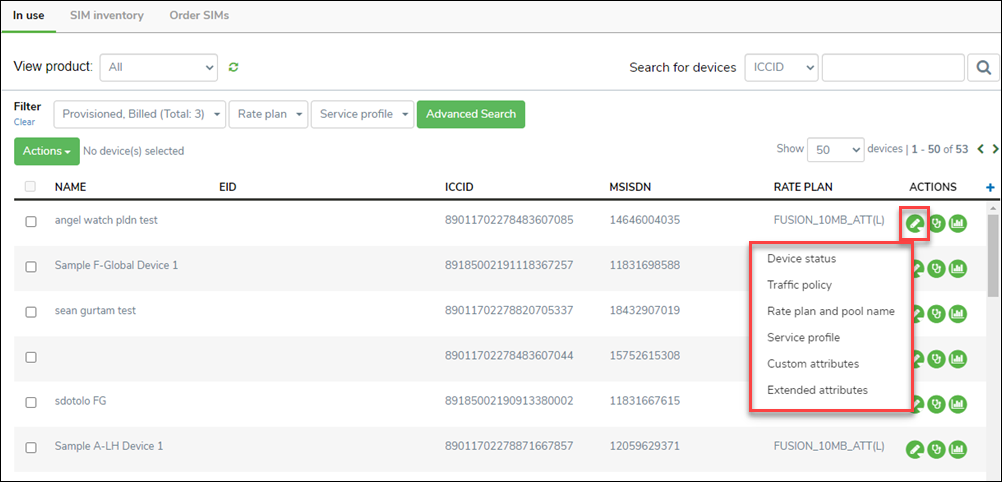 Note:
For devices on a prepaid billing plan, when editing the device, there is no option to change the Rate plan and pool name.
Device Status
Change a device's current status by selecting the desired device status from the drop-down menu then clicking Apply.

The statuses that are available for selection will vary depending on the current state of your device. Note that device state changes become effective immediately. Read about the various device states here.
| Current | Available States |
| --- | --- |
| Provision | Bill, Cancel |
| Bill | Suspend, Cancel |
| Suspend | Bill (Unsuspend), Cancel |
Note:
Fusion NA and Dual-Mode A-LH devices in the Suspended state are not able to pass any traffic.
Fusion NA devices cannot be modified in a Suspended state.
Devices on a prepaid billing plan cannot be placed into a Suspended state.
Traffic Policy
Traffic policy refers to the action applied to a device to control its traffic. Traffic blocking allows you to "Block" Packet data, SMS, Voice, or all services without having to suspend or cancel your device.
From this window, you can apply a traffic block or remove a block if one is already applied. You can select to block an individual service, or if you select Block all, this will prevent the device from registering and block all services on the device.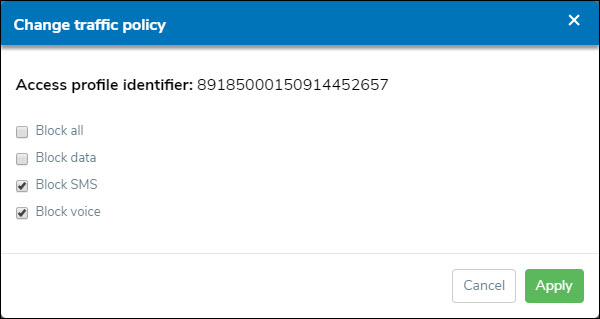 Once you apply the traffic policy, the time that it takes for the traffic block or unblock to take effect will vary depending on the service:
| Service | Latency |
| --- | --- |
| Data | up to 8 minutes |
| SMS | none (block/unblock is immediate) |
| Voice | none (block/unblock is immediate) |
Note:
Only "Block all" and "Unblock all" functionality is available for Coverage SIMs.
You cannot choose to unblock traffic that is not included your device's service profile. For example, if the device's service profile does not include voice, voice traffic is automatically blocked and you will not have the ability to unblock it through this window.
Rate Plan and Pool Name
To change your device's rate plan or pool name, you also need to select an Effective date.
By default, rate plans are in effect for a full billing cycle, and changes become effective at the beginning of the next billing cycle.
However, your service agreement will tell you if it is possible to change the rate plan sometime during a billing cycle. This is a Mid Cycle Rate Plan (MCRP) change option. You can specify an effective date for changes to the rate plan if your account has an MCRP option. This option allows you to set the date that the new rate plan will be enforced. The earliest effective date for a change is tomorrow and the latest is 60 days from today.
The MCRP option is not available for devices on a prepaid billing plan.
Note:
For Fusion NA devices, the rate plan is tied to the RAT Type that was used when the devices were provisioned.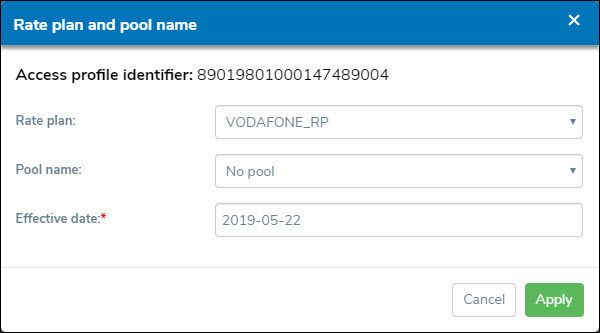 Service Name
Select a service profile name for your device from the drop-down menu.
Note:
For Fusion NA devices, the service profile name choices will change based on the RAT Type that was used when the device was provisioned.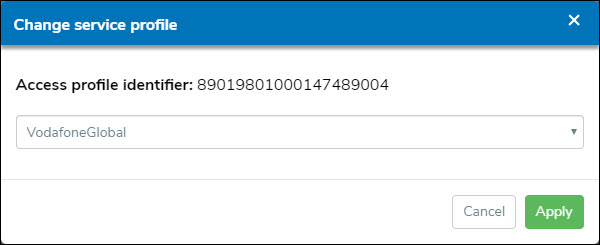 A dialog box appears, to confirm if you really want to change the service name.

The confirmation dialog box ensures that you are aware about consequence of the action. For example, the device registration is cancelled and you may not able to communicate with the device for the next 90 minutes (maximum).
Click Yes to continue the process of changing the Service Name. The appropriate identifier is generated and displayed in the Device updates dialog. Note that when changing the service name, the new service name must be of the same carrier as the current service name.
Alternatively, click No to discard the request and no change will occur. Moreover, the value of identifier is 0.

Static IP
This setting allows you to assign a static IP to your device or remove a static IP if one is already assigned. Note that Static IP must be enabled in your service profile in order to assign a Static IP.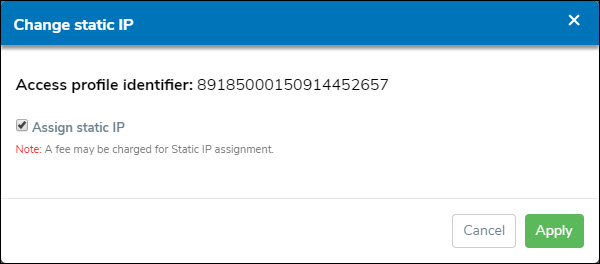 Note:
Static IP unassignment for Dual-Mode A-LH devices can only be done by changing the device's service name to one that has Static IP disabled.
Static IP assignment for Dual Mode A-LH devices can only be done through provisioning. Currently you cannot assign a Static IP through service name change.
The Static IP menu option is not available for Fusion NA and Self-Serve SIM devices.
Custom Attributes
Use custom attributes fields to store any other information related to your device.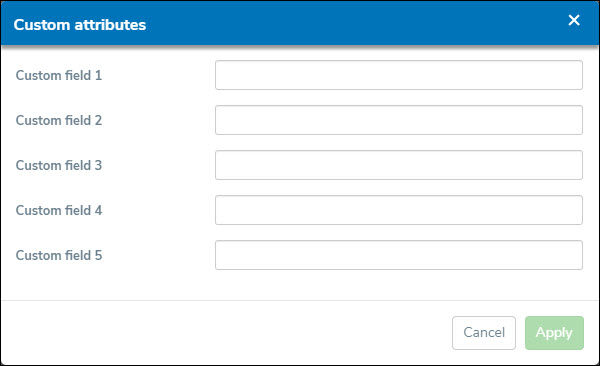 Extended Attributes
Use the extended attributes fields to store additional information such as the device name, the device's current location, a report group number, or whether the device is mobile or fixed.