You can view the network service status by clicking the Network Status icon on the menu bar.

By clicking the Network Status icon you can view a drop-down list with the status of your services. Only the services that are active in your account are shown.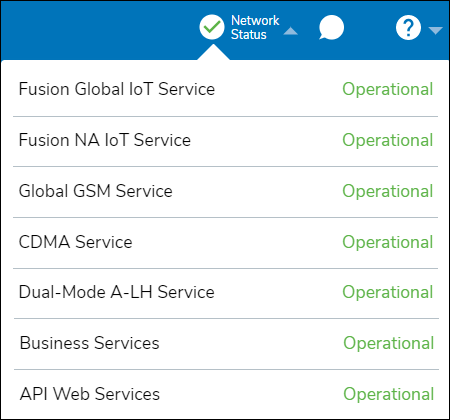 When you see the green word "Operational," the service is up and working as expected. A wrench or red icon indicates that a service is currently impaired. Clicking on any service takes you to the Connectivity Service Status page where additional details are available, such as the incident history. Scroll down the page for additional information, such as upcoming Scheduled Maintenance.
Understanding Service Status
The status for each network service will be one of the following:
Operational
Degraded performance
Partial outage
Major outage
Under maintenance
In addition to service status, the status page provides information about scheduled maintenance at least one month in advance, along with the date, time, and respective timezone so that you can manage your IoT devices accordingly. The page also shows details of any ongoing incidents and lists the past incidents.
Read more about the Connectivity Service Status Page.