Video Overview
The MyAlerts widget displays any alert profiles that are currently active on your account. If the alert has been triggered in the last 24 hours, the number next to the alert name will indicate how many devices have triggered the alert.
To view a list of these devices, simply click on the alert name. The resulting list shows the last ten devices that triggered the alert.
You will also find the option of downloading the list of all SIMs that triggered the alert within the last 24 hours. There are also clickable links to bring you directly to the Devices and Reports section of AerPort with the top data users pre-populated in the section's options.
You can click the device ID from the list to open the Device diagnostics page for that device.
There are three action icons available at the top of the widget. From left to right:

The Go to devices icon takes you to the Devices tab. The top data users are automatically filtered out and displayed in the device list.
The Create report icon takes you to the Create new report screen in the Reports Tab. The top data users are automatically populated into the device list for a device level report. You can then modify the report type and report criteria before running the online report.
The Download icon allows you to download and save a CSV file that contains a list of all devices that have triggered the alert in the last 24 hours.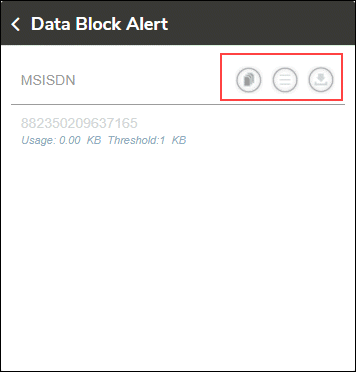 To learn more about configuring Alerts, see the MyAlerts list of articles.