Video Overview
The Billing widget provides a high level view of your monthly charges for the past three months and projected charges for the current month based on usage to date. This widget helps illustrate trends in charges to your account over this period.
The chart summarizes the charges by monthly recurring cost (MRC) (aka Access Fees) and by service type. For example, Data charges seen in the chart are for those not already included within MRC or Access Fees. This would occur in instances where a SIM consumes more data than provided for by its assigned rate plan. The View Billing hyperlink redirects you to the Billing Analytics page.
The projected amounts are based on month-to-date charges extrapolated to the remaining days of the current month and lags between one to two days. Note that future events that may stray from the month-to-date averages or trends, such as planned upticks in usage associated with application updates, are not reflected in the projected numbers.
Note:
AerPort processes the billing data at the end of each day (midnight GMT), therefore charges from the last one to two days (GMT) may not reflect in the current month.
Here are some example screenshots of the Billing widget.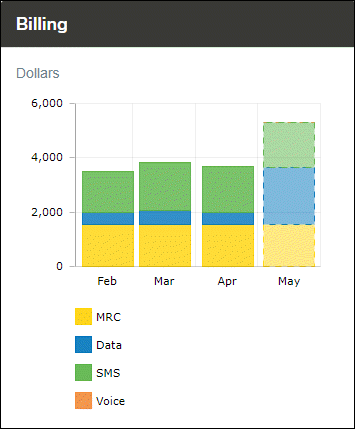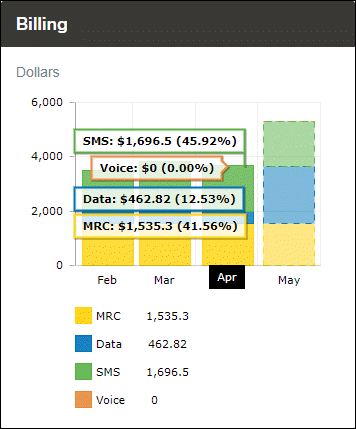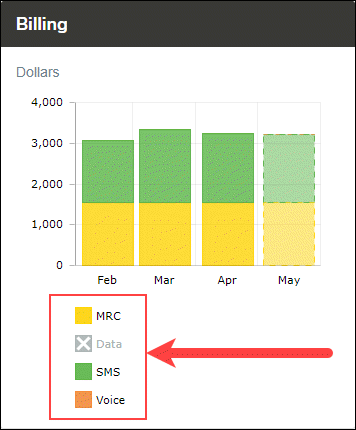 You can hover over a specific month to view a further breakdown of the charges. You can also filter charges being displayed in the widget by clicking on a charge type in the legend. The values on the y-axis automatically adjusts based on the charges currently selected.