Video Overview
The MyAlerts widget displays alert profiles that are active on your account. If an alert was triggered in the last 24 hours, the number next to the alert name will indicate how many SIMs triggered the alert.
To view a list of these SIMs, simply click on the alert name. The resulting list shows the last ten SIMs that triggered the alert. You will also find the option of downloading the list of all SIMs that triggered the alert within the last 24 hours. There are also clickable links to bring you directly to the Devices and Reports section of AerPort with the top data users pre-populated in the section's options.
MyAlerts are used to monitor traffic and activity for individual devices or a group of devices. With MyAlerts, you can define thresholds for certain device behavior and become notified if the device's activity stays below or exceeds those thresholds.
On the Setup page, you can view a list of the alerts that are currently configured on your account. A maximum of 5 alerts are allowed per account. You can request additional alerts from your account manager; additional fees will apply.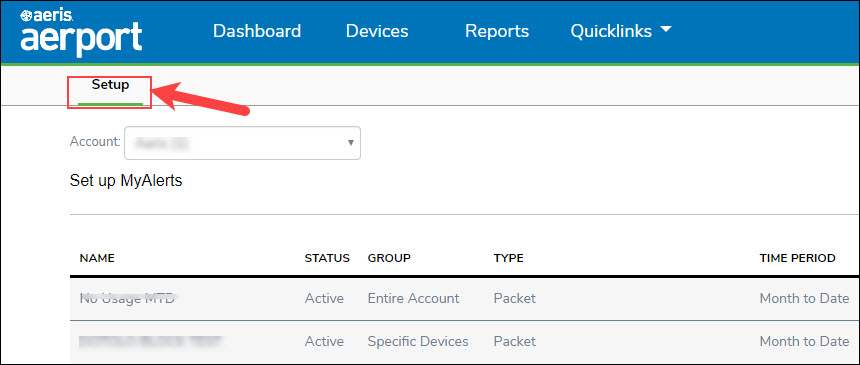 If you click on an alert, its row will expand and provide additional details on the alert's configuration.

On this page, you also have the ability to create, edit, and delete alerts, and manage the list of recipients that will receive alert notifications.