The goal of the Data Transactions widget is to monitor the data processed by each device on a daily basis to spot anomalies indicating an inactive or compromised device. A Data Transaction (per device) is an important metric because a spike can signal a data breach attempt and/or adversely impact operations costs.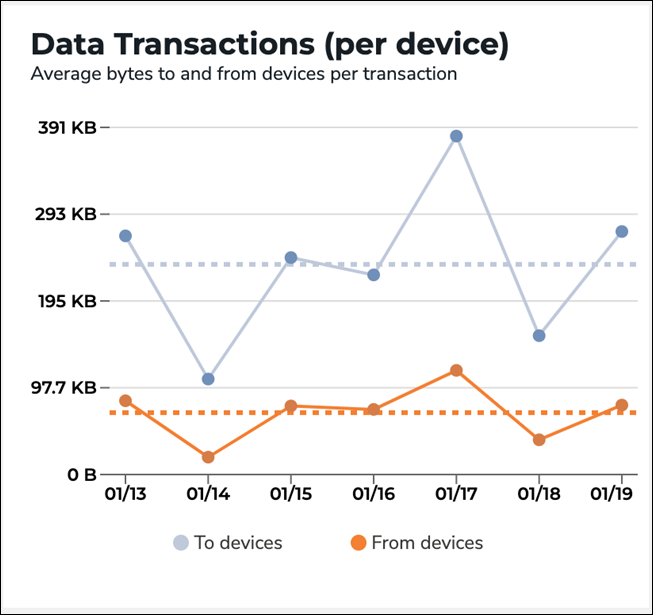 The Data Transactions chart tracks the average amount of data that is sent to/received from each device per transaction. A single data transaction is a transfer of data from a specific date to/from a specific URL address. The following color scheme is used:
Blue: Tracks the data sent to your IoT devices.
Orange: Tracks the data received from your IoT devices.
Data Transactions help you understand your baseline data processing activity and track data with respect to that baseline. If you use the date selector at the top right to choose a specific date, you can view the transactions and zoom in to see the data activity on that date.
Clicking on a specific date in the Data Transactions widget in the main dashboard takes you to a filtered view that displays all of the source and destination URLs that communicated with your IoT devices on that specific day.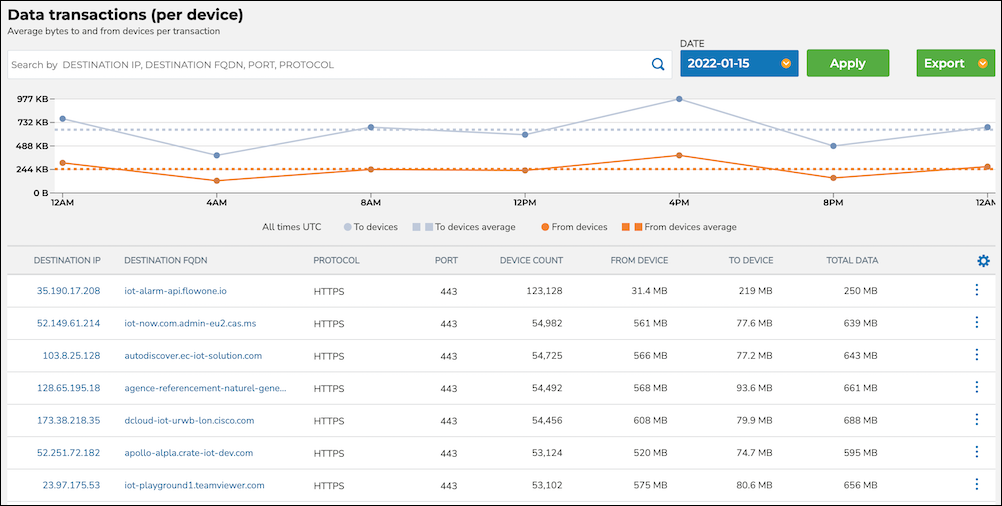 Click on a URL to display relevant information about the devices that connected to that URL on that day. This includes information such as:
The device IDs.
Direction of data flow.
Amount of data sent or received.
Connection port and protocol used.
Frequency of communication.

From there, you can pivot to a specific device to see additional details, and identify other sources/destinations that exchanged data with that device. This can help you understand the cause of any data usage spike.

To take closed-loop remediation action, you can click Block SIM to block the device in-line. A pop-up window appears. Read how blocking SIM works, and then click YES, BLOCK.

Note:
Blocking operations are reversible. You can unblock a blocked device.