The Aeris Intelligent Security Center is a capability that you can add to your connectivity subscription. The Security Center provides a dashboard and capabilities regarding "network detection and response" to provide visibility and insights into your IoT deployment.
Security vulnerabilities in IoT devices can cause serious damage to finances, company brand, and even physical safety. Aeris addresses potential vulnerabilities in your IoT devices through the Security Center. This includes the ability to:
Continuously monitor network activity and security-relevant metrics.
Synthesize insights into IoT interactions.
Aggregate & establish baselines based on past data.
Highlight anomalies that may warrant additional action.
Evaluate customer deployments for compliance with security standards and best practices.
The dashboard displays the Security Risk Score (SRS), which is an overall quantitative measure of the security of the device fleet, expressed as a percentage from 0 to 100%. In addition to the SRS, the dashboard shows four Potential Indicators of Compromise (IOC). Click for information on each item.
Note:
Items are grayed out if your account does not have this capability enabled.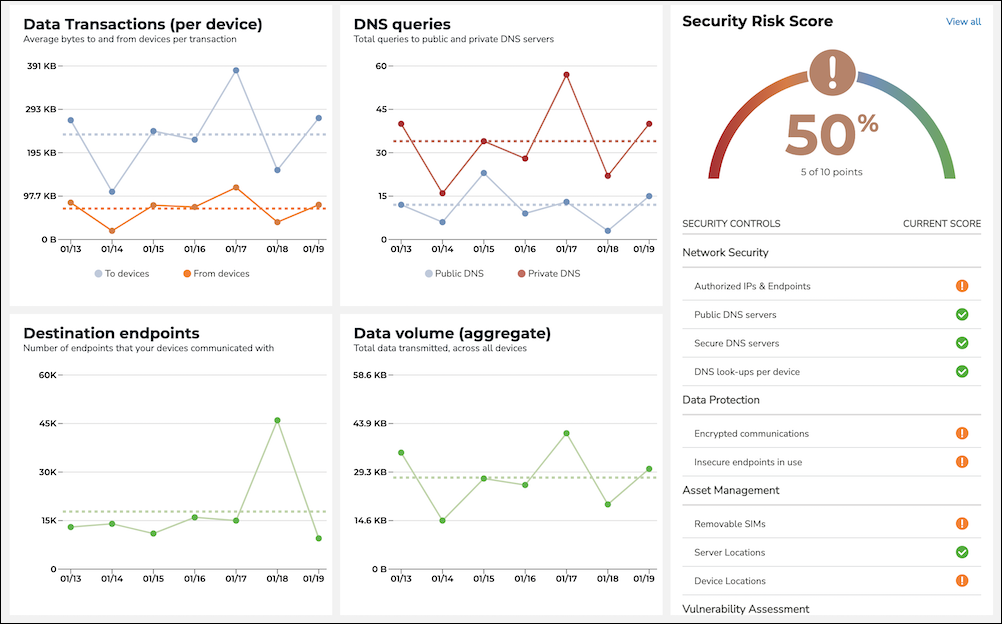 Coming soon are additional capabilities related to Security Threats and Anomalies.